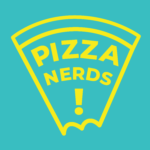 We're continuing our series on Pan Pizza – this week is the Round Pan variety.
We like using an aluminum cake pan instead of a cast iron skillet. You can hear the full breakdown in the episode, but cast iron doesn't heat up quickly enough to get that crisp crust.
You can find the recipe for this pizza on our website.
Ask us questions over on instagram (@pizzanerdsco) and remember, there's no perfect pizza. The goal is having fun and learning!
🍕🤓
Theme music by Dyalla Swain http://soundcloud.com/dyallas.