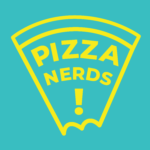 This episode kick's off a new series on Pan Pizza. Each week we'll talk about a specific type of pan pizza – this week is the Grandma Pie.
Throughout the next few episodes we reference Peter Reinhart's excellent book Perfect Pan Pizza. The recipe Michael walks through in this episode is Reinhart's "White Flour Dough". We have this recipe available on our website.
Ask us questions over on instagram (@pizzanerdsco) and remember, there's no perfect pizza. The goal is having fun and learning!
🍕🤓
Theme music by Dyalla Swain http://soundcloud.com/dyallas.