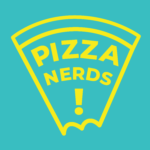 We're continuing our series on Pan Pizza – this week is Detroit style.
We base our recipe off the Serious Eats' Detroit style.
Llyod Pans makes the industry standard in Detroit Style deep-dish pans. You can get one on Amazon.
The pizza cutter Kendra mentioned during the intro.
Ask us questions over on instagram (@pizzanerdsco) and remember, there's no perfect pizza. The goal is having fun and learning!
🍕🤓
Theme music by Dyalla Swain http://soundcloud.com/dyallas.