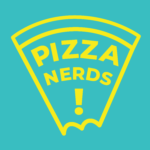 Our first "series" explores NY style pizza. In this episode we discuss the technique of making this great pizza at home, including how to stretch dough, what surface to cook on, and how you can get your best pizza bake from your home oven. Lots of great practical advice here.
We've got a whole list of recommended products on the website, but here are a few standouts:
Next week we'll do a recap episode on NY style pizza. Ask us questions over on instagram (@pizzanerdsco) and remember, there's no perfect pizza. The goal is having fun and learning!
🍕🤓
Theme music by Dyalla Swain http://soundcloud.com/dyallas.