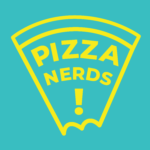 This episode is the second in our Neapolitan style series! We tested over 15 recipes to come up with two that we recommend. One is simple and very good. The second is more time-consuming, and it's amazing.
In this episode we take a deep dive into the dough-making process for those two recipes, including ingredients, mixing and shaping techniques, and the "broiler method" for cooking your pizza.
Our favorite easy Neapolitan recipe: King Author Flour's "Best Pizza You'll Ever Make"
Our overall favorite recipe: LA Magazine's "Traditional Neapolitan-Style Pizza"
Ask us questions over on instagram (@pizzanerdsco) and remember, there's no perfect pizza. The goal is having fun and learning!
🍕🤓
Theme music by Dyalla Swain http://soundcloud.com/dyallas.