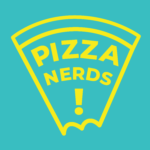 Good things happen when homemade pizza is shared.
We're Kendra and Michael, friends who have been sharing pizza tips for years, and on this podcast, we want to include you in the experience, all so you can make the best homemade pizza possible and have a great time doing it.
Whether you're full-on nerds like we are or if you're a total beginner, you're in the right place. There's a craft to making pizza, but it doesn't have to be complicated or scary.
Together, we'll learn the science and soul behind great pizza at home.
We'll cover several styles of classic pizza, going deep into the dough, sauce, toppings, and the techniques unique to each type, all to help you make the pizza in your own oven with your own people.
There's a reason everybody loves pizza. It's exciting, comforting, familiar, and fun all at once. A carryout special has its place in the pizza landscape for sure, but homemade pizza is not as hard as you think and has become a treasured, incredibly fun part of both of our lives, and we want the same for you.
Let's demystify the process and make great pizza at home. Welcome to Pizza Nerds.
🍕🤓
Theme music by Dyalla Swain http://soundcloud.com/dyallas.